News & Events
The latest updates & invitations from the team at OneSpirit Interfaith Foundation.
We made a podcast!
Bring It To The Altar: now available on iTunes, Spotify & Soundcloud
This new podcast brings you up close with the work of the OneSpirit team, faculty, graduate ministers and their wider community of teachers, elders & friends. Weaving tales from right across the globe, each episode features a new voice and tells a unique story of how this important work makes its way into the world.
Our Intro Days offer an opportunity to directly experience our teaching approach, as well as connect with current students, ministers, and faculty.
Our series of free Intro Days offer the perfect opportunity to learn more about who we are and what we offer...
Our Intro Days offer an opportunity to directly experience our teaching approach, as well as connect with current students, ministers, and faculty.
BLOG: How I Serve...
More than 800 individuals have completed our training and our graduates express their ministries in countless ways. Get to know some of our minister graduates in this blog series exploring their call to ministry, their unique experience of the training - and what "ministry" looks like for them. Full library of 'How I Serve' blog articles available here.
"How I Serve..." - meet some of our graduates...
@BringItToTheAltar on Instagram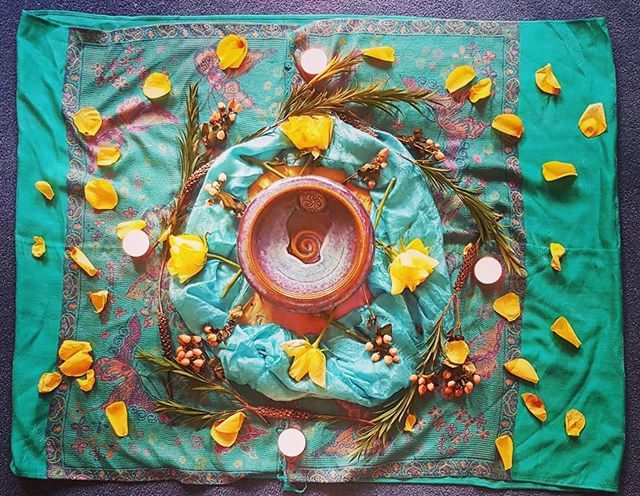 I place on the altar of dawn: The quiet loyalty of breath, The tent of thought where I shelter, Waves of desire I am shore to And all beauty drawn to the eye. 💘 May my mind come alive today To the invisible geography That invites me to new frontiers, To break the dead shell of yesterdays, To risk being disturbed and changed. 💘 May I have the courage today To live the life that I would love, To postpone my dream no longer But do at last what I came here for And waste my heart on fear no more. 💘 John O'Donohue • • • 📸: exquisite altar & image from OneSpirit Interfaith Minister, @oconnortreacy 🙏🙌😍🥰
🎬 2019 ORDINATION HIGHLIGHTS VIDEO: The OneSpirit Class of 2019 Graduation & Ordination ceremony was held at the Grand Hall at Bushey Academy on Saturday 20 July for 29 beloveds who stepped more fully into Ministry, witnessed and supported by hundreds of family & friends. * Full video available in our IGTV * About OneSpirit Interfaith Foundation: There comes a time when we are drawn to enquire what lies beneath or beyond the hustle and bustle of our daily lives. For some of us, this enquiry becomes the work of a lifetime, as we embark on the path often referred to as the spiritual journey. Whether you're wondering how to take your first steps on that path, or are already feeling drawn to support others in taking their own, our 'spiritual development and ministry training' could be the perfect container and a community in which to write the next chapter of your journey. Founded in London in 1996, the OneSpirit Interfaith Foundation is a UK educational charity offering training to open-hearted adults, exploring interfaith ministry, spiritual leadership, sacred activism, ritual, spiritual counselling & the world's many faith paths. We join in the awakening of an inclusive global spirituality, in ourselves and in the world, through educating and enabling adults to serve people of all faiths in our diverse communities. www.interfaithfoundation.org
When the land needs a rest Mother Nature sends a drought. The snake finds a place apart to shed his skin. The kookaburras take from the bush table only what they need. The waratah lives a quiet life until her blooms are ignited by the sun. The old banksia lives one with the sea in the ebb and flow of their lives. The scrub reveals her uncommon beauty to those who grow to know her intimately. There are seeds that dream of fire and eyes that wait upon the dark. Somewhere a wattle is in flower and cockies are cracking nuts. There's the bird that calls in dial tones and the gum tree with a creek you can listen to gurgling through its heart. The bush talk never ceases, Mother Nature ever attentive and responsive. It is we who have become disconnected from the Source of our lives, deaf to Her cries, blind to our predicament, strangers to that place within our own hearts where we all are one with Life's tiniest bloom. 🐨🌿 Bush Talk by Noel Davis • • • 🎨📸: Beautiful close up of seed Dreaming painting by Janet Napaljarri Herbert. 🙌 Shared and available via @art.ark who partner with non-profit and community-governed Aboriginal organisations to bring you beautiful, ethically sourced works of art. 🙏 #aboriginalart About the painting: This Jukurrpa belongs to women of the Nakamarra/Napurrurla subsections and to Jakamarra/Jupurrurla men. This Dreaming is associated with a place called Jaralypari, north of Yuendumu. Lukarrara (desert fringe-rush) is a grass with an edible seed. The seeds are traditionally ground on a large stone ('ngatinyanu') with a smaller stone ('ngalikirri') to make flour. This flour is mixed with water ('ngapa') to make damper cakes which are cooked and eaten. In Warlpiri traditional paintings iconography is used to represent the Jukurrpa, particular sites and other elements. Large concentric circles often represent the site of Jaralypari and also the seed bearing grass Lukurrara. 'U' shapes can depict the Karnta (women) collecting 'lukarrara' and straight lines are frequently used to portray seeds that fall down to the ground and are also collected by women using their 'parrajas' (wooden food carriers) and 'karlangu' (digging sticks).
Make a place of prayer, no fuss, just lean into the white brilliance and say what you needed to say all along, nothing too much, words as simple and as yours and as heard as the bird song above your head or the river running gently beside you. Let your words join one to another the way stone nestles on stone, the way water just leaves and goes to the sea, the way your promise breathes and belongs with every other promise the world has ever made. Now, leave them to go on, let your words carry their own life without you, let the promise go with the river. Have faith. Stand up. Walk away. 🌀✨ - David Whyte @davidjwhyte • • • One of the many beautiful altars from our end of Year 1 retreat. 🌷