Spiritual Practice Circle
Come and deepen your own spiritual practice from a holistic point of view in a shared community space. The Spiritual Practice Circle is designed to support OneSpirit Ministers with commitment to their vow of maintaining a continued spiritual practice, as well as support other members of the OneSpirit Community wanting to deepen their own spiritual practice.
This Circle is designed to offer you a structured space to meet with likeminded people to develop and stay in touch with your own regular spiritual practice. Each month will act as a drop-in space, so you can commit to as many sessions as you feel will be beneficial for your own journey.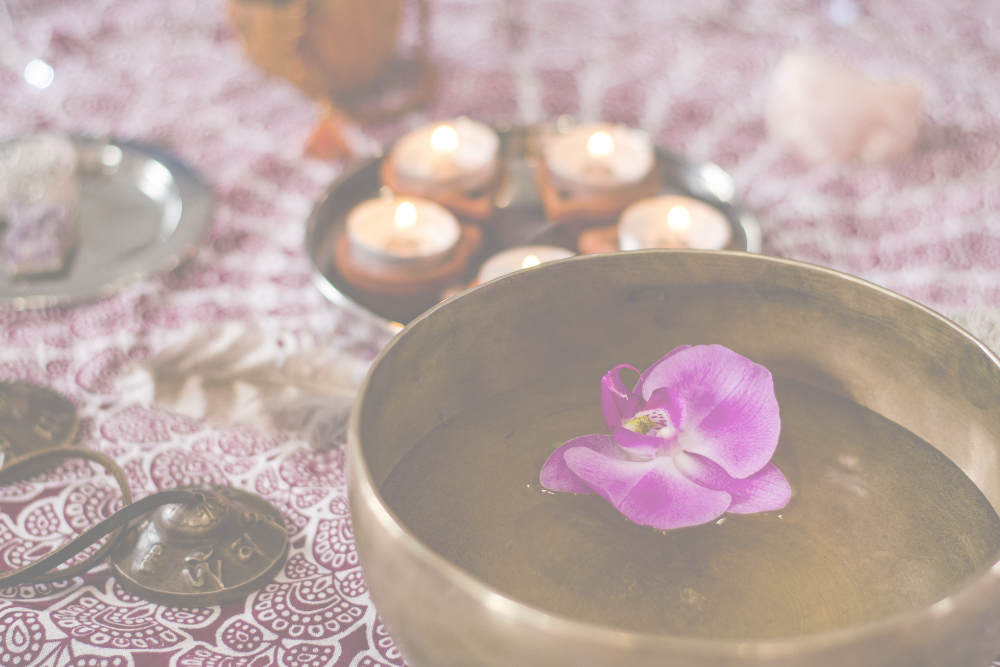 Key Features
This circle will run over 6 months, starting in Januaray 2024.
You can book all 6 sessions in advance, or opt to pay per session, only joining when it feels most nourishing for you.
Taking place via zoom, so you can join from the comfort of your own home.
Connect with likeminded indivdiuals keen to develop their own spiritual practice.
Key Information
Taking place on the last Tuesday of each month, running for 6 months from 7:00pm till 9:00pm:
30th January 2024
27th February 2024
26th March 2024
30th April 2024
28th May 2024
25th June 2024
"Being part of a sacred circle working on the six exercises was a mind and heart-opening experience. The exercises, which sound very simple are actually quite a challenge. I didn't always manage to stick rigidly to the programme but when I did it it gave me a focus and opened up different perspectives. Being part of a group was a draw for me and this was both interesting and rewarding. We were a mixed bunch of people new to this work and ordained interfaith ministers. Christopher's deeply attentive and inclusive way of facilitating the group enabled an online experience to reach a level of intimacy and connection which surprised me. He brought humour, warmth, playfulness and creativity to the sessions along with a deep knowledge of the six exercises. He was both a teacher and a collaborator in the work and I appreciated his humility and honesty in sharing his experiences and learning from the group. I am very grateful for this opportunity and I highly recommend it to anyone who wants to develop an active inner life. It is one of the best things I have ever done for myself and I will continue to practice the exercises as part of my spiritual journey." – Mark
Payment Information
Price per session:
ROSIM members, or OneSpirit students: £20 per session
Non-ROSIM members: £25 per session
Price for all 6 sessions: If you choose to book all 6 sessions in advance, you will save £20!
ROSIM members, or OneSpirit students: £100
Non-ROSIM members: £130
"I have just completed the transformative one-year journey, "Deepening Your Spiritual Practice," under the guidance of Christopher Marcus. Having previously been under Christopher's tutelage during my two-year Interfaith course from 2017 to 2019, our monthly Spiritual Guidance sessions over Zoom have been a continuous source of inspiration. Christopher possesses a remarkable balance of grounded wisdom and spiritual insight, always approaching discussions with openness and respect, never imposing his knowledge but rather encouraging a collective exploration of ideas. It was this profound connection that piqued my enthusiasm when I learned about the "Deepening Your Spiritual Practice" course, and I eagerly joined the group. Describing the course as "Challenging yet Incredibly Rewarding" would be an understatement. Full commitment is essential, not only in terms of attending sessions but also in wholeheartedly engaging with the exercises. These seemingly simple activities, focused on developing and purifying one's thinking, feeling, and willingness, demand dedication and persistence. Yet, as I delved deeper into the exercises, they revealed a transformative power, unlocking new dimensions of thought and being. The challenges, when met head-on, led to profound personal growth. One of the course's most significant strengths lies in its ability to foster a sense of community. Despite the individual nature of the exercises, the group dynamic created a supportive environment for sharing experiences. This communal aspect not only enriched the learning process but also provided a network of understanding individuals who shared the same journey. In essence, I wholeheartedly recommend this course to anyone seeking a deep and meaningful spiritual journey —one that demands dedication but promises immeasurable rewards in terms of personal growth and self-discovery." – Lindy
Christopher Marcus
This circle will be held by OneSpirit faculty member, Christopher. Christopher is a highly experienced tutor and has many years experience facilitating both online and in-person courses and retrests. Christopher's approach is to guide participants on incredible journeys, by bringing in his expertise and lived experience. Christopher's ministry is built on the foundation of 34 years of being involved as a director and teacher in Spiritual Theatre, based on the teachings of Rudolf Steiner, working through the Mystery of the Spoken Word. This led him to the borders of what can be called entertainment, and to the core question of what it means to be one's True Self. Going through the portal of ordination as a OneSpirit interfaith minister in 2007 was the answer to his search for authenticity. Since then he has used the discipline of Spiritual Counselling to help others come closer to their True Self. A OneSpirit tutor since 2009, Christopher sees the training process as offering a container for deepening one's relation to The Divine through ritual and ceremony as well as nurturing the wonder of human interaction in the intense group work offered by the curriculum. Christopher is married with three children and lives in East Sussex.
"I took Spiritual Practice with a group of other ministers and yet-to-become ministers, on a most extraordinary journey. It used very, very old spiritual tools in a unique combination that built on each other as time went on. What seemed easy the first day or month got progressively more complex and rich over the year. We used ancient disciplines involving focus, volition, and will, combined with heart-opening and mind-tempering ways of being.
These were practised not apart or distinct from our day-to-day lives but within and incorporating all aspects of it. The result has been a much deeper experience of spiritual awareness – humbling, bonding, quietening, illuminating.
Christopher our tutor brought curiosity, insight, a huge range of reading, creative arts, delight, and spiritual knowledge to the group and its evolution. It has not been easy, and it has been profound." – Frances
"Working with Christopher is an invitation to explore spiritual development at a deeper level, an opportunity to unshackle ourselves from the distractions of contemporary life, and discover tools to deepen spiritual practice and cultivate a richer inner life. While I was familiar with spiritual practice, working at this level was a new experience for me and a sense of community flourished among us all as we shared our struggles and challenges, and learned from each other. An authentic connection and bond were established within the group. Christopher is a walking bible of spirituality and spiritual thinking and he introduced many new teachers as well as sharing his extensive knowledge with us as the course evolved. The course was equal parts challenging and enriching the more we immersed ourselves and personally, and what I have learned from working with Christopher will continue to ripple and spill out long after the course finished. The tools he taught and the knowledge he imparted are for life long practice." – Patrick
Login
Accessing this course requires a login. Please enter your credentials below!